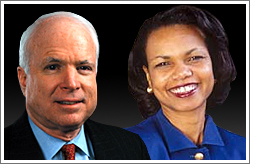 Last week, Hillary [1] hinted about a possible ticket with Barack; and of course the media is painting it as "the dream team" for democrats. Yet today, Barack Obama [2] rebuked the idea of being Hillary's running mate as Vice President and said that voters must choose between one of the two for the top spot on the fall ticket. In his words with a slight attitude, "I don't know how somebody who is in second place is offering the vice presidency to the person who is first place…and I am not running for vice president, I am running for president of the United States of America." Here is the [3] video.
My take on this is clear. Bring on Hillary and Obama or whoever else. It doesn't matter who the big cheese is either.  The true dream team is McCain and the democrat's worst nightmare - Condoleezza Rice. Why you ask? Well, not only is she intelligent, articulate and a hard as nails conservative, but she is also – for those who don't know – an African American woman. Now for those liberals who read this blog. Tell me how in the hell the democrats can launch negative campaign ads (because we know that's what they do) against an African American woman and not come across as being racist?  Besides, Condi will destroy both in Obama and/or Hillary in any debate on most topics.  Now, that's the real talk and the real "dream team."
Subscribe to this awesome blog!

Like this post? Want to call me a jerk, neo-con, fascist or whatever?  Please [4] subscribe to my blog and you can receive all future posts delivered right to your inbox!
[5]

Technorati Tags: [6] barack obama, [7] hillary clinton, [8] dream team, [9] john mccain, [10] condi rice
Article printed from Conservative Blog: Urban Conservative 2.0 - Conservative News & Politics: http://www.urbanconservative.com