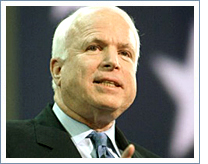 What's most perplexing about the 2008 presidential campaign is the unadulterated love and support Barack Obama has received from America's young generation (and from American media, but that's for an entirely different piece). While this support has brought Obama a long way on the seemingly never-ending path toward possible presidential supremacy, Clinton is hanging tough. While I am not a Democrat by any stretch of the imagination, I fluctuate between supporting Obama and Clinton (and by "supporting" I mean "selecting the candidate who won't make me cry myself to sleep every night if my preferred candidate, Arizona Sen. John McCain, happens to lose in November).
Luckily, on the Republican front McCain has officially been granted the candidacy. Instead of debating back and forth with vying party rivals, he can face the complexities associated with the general election, focusing the breadth of his energy on his upcoming battle with a Democratic contender – whomever he or she may be; this is a clear advantage that some Democrats may be underestimating.
When it comes to the overall political spectrum, one cannot help but wonder how the Democrats will possibly rectify the deep divide that the Obama vs. Clinton charade has manifested. With the Republicans losing out in 2006 – a prime example in political theory of "surge and decline" – mixed with an overall distaste for the Bush administration and its policies, left me more than concerned about the prospect of the Republicans losing out in 2008. Bearing in mind Bush's unpopular status, one might say I had quite a bit to fear.  But, then — as it often does in politics — the sociopolitical climate changed.
While many talking heads spouted off about an impending civil war amongst members of the Republican Party, conditions seem to be turning around quite rapidly.  Sure, there have been spats and disagreements, but the battle for the Republican nomination is sealed and the focus of political fury has been placed upon the two Democratic contenders who have their hearts set on "making history." While they're out pledging to fulfill empty promises that they dress up with elaborate diatribes about "hope" and "change," McCain is left alone to concentrate on better positioning himself among members of his party who still haven't accepted him as the most applicable choice – and on the general election, of course. But the Democrats – they're still battling one another and it isn't pretty.
The gender and race cards are being pulled so fast that the deck is damn near empty. The other day I was in an elevator and I overheard an African American woman speaking with a man behind me. She was talking about how wonderful it was that a black man had made it so far in America (i.e. Obama). She went on to explain that this was the primary reason she'd be voting for him (assuming he receives the Democratic nomination).
Now, this is where my frustration over the Obama phenomenon reaches its max. While I truly love and value diversity, I would never support an individual on the sole basis of race or ethnicity. In fact, I think it is morally irresponsible to make such an important decision based primarily on an external factor that really bears no affect over the actual ability to lead.
If Barack Obama were Colin Powell or Condoleeza Rice, I would be more than supportive (pending that the reason for said support was not based solely on ethnicity). I'm all for diversity, but merit should be based primarily on experience. Unfortunately, Barack Obama does not have the experience one would expect to find in a candidate in the running for the American presidency. Feel free to debate me on that, but it's basically unarguable at this point. 
And don't even get me started on Hillary Clinton. The last thing this nation needs is another Clinton in the White House – but I digress.  Supporting someone based primarily on race or gender is silly and unbelievably naive.  Real leadership comes from within (and from the experiences gained in the many instances that shape our hearts and minds).
And let's not forget about "hope" and "change" – the weasel words that he and Hillary throw around so spuriously that one cannot help but wonder if they ever deviate from their scripted banter.
The fact of the matter is this: We need a president who is ready and willing to take on the complex issues that are stampeding our nation – and our world. While all three contenders are more than willing, are they ready?
The only candidate who has proven longitudinal experience coping with peace, war and the political institutions that govern the American political schema is John McCain. Argue with me all you'd like, but the facts, the timelines and all other secondary sources of data point to his experience and willingness to reach across the aisle (something that is desperately needed when considering the level of stagnation that has been created by partisan politics in recent years).
Let's hope Americans realize this unalienable fact before it's too late.
Guest post written by Billy Hallowell. Visit his [1] web site.
People from around the United States have noticed Billy Hallowell's hard work and dedication. He has been published/featured in political and cultural books, textbooks as well as articles and websites focusing on the youth of America and its role in the future of the world. In 2003, he attended the World Bank's conference on youth development in Paris, France. Over the years, he has become known as a major force among young people and has received prestigious journalism and community awards for his work. Since he was 15-years-old, Billy has been working through the communications industry to connect and reach out to his peers.
Technorati Tags: [2] billy hallowell, [3] john mccain, [4] 2008 presidential campaign , [5] Colin Powell, [6] Condoleeza Rice, [7] Obama
Article printed from Conservative Blog: Urban Conservative 2.0 - Conservative News & Politics: http://www.urbanconservative.com