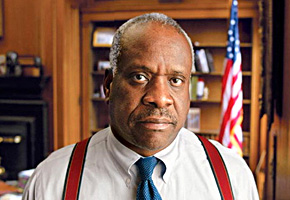 And this comes from a man who is clearly not experienced enough to be the President of the United States.
Just last weekend, both Obama and McCain attended a Q&A symposium at the Saddleback Church in Lake Forest, Calif., facilitated by Pastor Rick Warren who is known for his bestselling book "The Purpose-Driven Life�. During the event, Obama said he would not have nominated Thomas to the bench because "I don't think that he was a strong enough jurist or legal thinker at the time for that elevation; setting aside the fact that I profoundly disagree with his interpretation of a lot of the Constitution.�
The funny thing is that he started to say that Justice Thomas didn't have enough 'experience' for the Supreme Court. In mid sentence, he fumbled his words slightly probably realizing that he himself doesn't have enough experience to be President; and then so eloquently shifted his answer, like he usually does.
Forget about his ultra-left-leaning liberal views. If you really examine his background, you will find that he really has no political and/or business experience at all. A President is more than just the Commander in Chief. He is also the CEO of the Federal Bureaucracy that employes thousands of employees and spends billions of dollars each year.  That means he needs to understand the basics of economics and business. I doubt he gained this experience as a community organizer and professor?
Since most of you don't do your own research, I'll sum it up for you briefly. Obama was a graduate of Columbia University and Harvard Law School; and also served as president of the Harvard Law Review.  He worked as a community activist and was a civil rights attorney before serving in the Illinois Senate from 1997 to 2004. He also taught constitutional law at the University of Chicago Law School from 1992 to 2004 and has been a Senator since then.  And, while Senator he hasn't even voted on about 50 percent of the bills that crossed his desk.  Presidential material, no; but he would make a damn good ACLU attorney.
Now, let's review Clarence Thomas's work and education history. He attended Holy Cross where he helped found the Black Student Union and graduated in 1971 with a Bachelor's Degree in English.  He then attended Yale Law School from which graduated with a Juris Doctor (J.D.) degree in 1974.
From 1974 to 1977, Thomas was an Assistant Attorney General of Missouri under State Attorney General John Danforth.  He then became a private attorney with a firm in St. Louis. He then became a Legislative Assistant from 1979 to 1981.  He served as Assistant Secretary of Education for the Office of Civil Rights in the U.S. Department of Education under Ronald Reagan.  From 1982 to 1990 he was Chairman of the US Equal Employment Opportunity Commission.
In 1990, President Bush appointed him to the United States Court of Appeals for the District of Columbia Circuit. In 1991, he was appointed to the Supreme Court of the United States since 1991.
Well, it seems to me like Justice Thomas is probably more qualified to be President than Obama.
tags: obama's comments about justice thomas, clarence thomas, supreme court, chief justice thomas, law, lawyer, inexperienced
Did you enjoy this article? If so, please subscribe to my blog!