April 23rd, 2007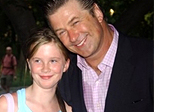 Okay, old news already but I actually wrote this last week. Psychopath Alec Baldwin unleashed a volcanic outburst of threats and insults to his 11-year-old daughter, Ireland, calling her a thoughtless little pig, and bashing her mom Kim Basinger. And I just learned that a family judge was so alarmed after hearing the tape, that she has temporarily barred Baldwin from having any contact with his child.
And here is the ironic thing (now, you know I have mix a little politics with this):
Mr. Baldwin is an extreme liberal! I cant imagine a liberal filled with so much hatred for his daughter. Arent liberals the ones who are trying to pass legislation in California making it a misdemeanor for parents who spank thier children? Also, let's not forget that last year a judge wanted a psychologist to evaluate Alec to determine whether he was mentally capable of seeing his daughter. Seems to me that Alec needs some counseling to help with his mental disorder.
Technorati Tags: liberal, liberalism, conservative, alec baldwin