Tuesday, August 7th, 2007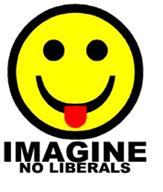 A few weeks ago, I created a profile on Myspace and posted some of my more controversial blogs there in order to gain more traffic and readership to this blog. While it's not the most effective media channel for driving web traffic, I have had the pleasure of meeting some fellow conservative bloggers that have some really great (and hilarious) things to say. One such blogger was a 19 year old female who goes by the name of the Bulgarian Queen. Dont be fooled by her Shakira background on her profile; she is quite the bulldog and will eat you liberals for breakfast. She posted a similar post to the following a few weeks ago which became my inspiration for writing this. 
Now sit back, close your eyes and imagine a World without Liberals! There would be:
No more spineless, moronic Ron Paul Myspace bloggers that vomit out garbage about his real character. Yes indeed, there are several Ron Paul supporters on Myspace.  I don't really have anything against Ron Paul.  He is a decent individual with the exception of his statement about 9/11 coming to us and the fact that he voted against legislation to help catch online predators. Well, actually I change my mind. He is a spineless-liberal-no-balls-havin moron and his voting record explains it all.
No more Al Gore-worshipping-tree-hugging-animal-loving-global-warming-the-world-is-ending loonies refusing to drill for oil in Alaska because it would disturb the wildlife. 'Nuff said about this.
No more Bush-bashing-Cheney-hating-troop-denigrating-cindy-sheehan-loving-ungroomed-facial-hair-having freakazoids that believe that its in our best interest to pull out of Iraq because war solves nothing. And these are the same people who have NEVER served a day in the US Armed Forces; yet they are suddenly experts in foreign policy. Hmmm, Sean Penn comes to mind right about now.
No more hypocritical-claim-to-be-Christ-loving-I-am-always-a-victim reverends like Jesse Jackson and Al Sharpton attacking people like Don Imus for his statements, yet are completely mute when well-known hip-hop artists promote gang violence, drug dealing and rap about bitches and hoes.
No more goofy-looking-menopausal-cindy-sheehan-loving-anti-war-anti-israel-terrorist-loving Hollywood types protesting just for the sake of protesting. 
No more money-wasting-perpetrating-wealthy-ass politicians who spend hundreds of dollars on a haircut yet claim that its in their best interest to help the poor.
No more traitorous-socialist-behavior-likes-to-have-it-both-ways-flip-flopping senators that claim to be for the people by supporting unions, when in fact she (Pelosi) owns several NON UNION vineyards and restaurants all throughout California. And, who is itching to rebel against the president and slapping Americans in the face by visiting a terrorist country and having peace talks while wearing a Hijab (head scarf).
This, my friends-family-and-liberals-who-lurk-around-this-site, would be a perfect world. Then again, a world without liberals would be quite boring, as I would have nothing to write about it in this blog. I am actually glad that liberals exist and I enjoy reading their nonsense. I compare it to watching the Jerry Springer show because it reminds me that my life isn't really all that bad.
Peace out my bretheren…oh, and long live Israel.
Technorati Tags: liberal, liberalism, conservative, cindy sheehan, sheehan, anti war protest, ron paul, nancy pelosi

Share this post Print this post EMail This Post