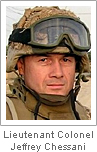 John Murtha will soon be eating his own words and forking out some cash, hopefully.
If you remember, back in 2005, there was an investigation into the tragic death of civilians in the Iraqi city of Haditha.  Apparently, there was supposed to be compelling evidence that proved that U.S. Marines "killed innocent civilians in cold blood," according to former Marine and Rep. John Murtha, D-Pa. He even claimed that there was a Military cover up; and was extremely vocal with his blasphemous statements.
He was wrong according to the video presented as evidence at a hearing for Lt. Col. Jeffrey Chessani who was charged; and on Tuesday, a U.S. Military Judge tossed out the charges against him. 
In an interview with nationally syndicated conservative radio talk host Michael Savage, the attorney for Lt. Col. Chessani said he and his client are looking into suing Murtha and the Time magazine reporter, Tim McGuirk, who first published the accusations by Iraqi insurgents.
We will see what happens.


Tags: haditha, iraq, marines, killed innocent civilians in cold blood, Rep. John Murtha, charges dismissed, US Marines, Time magazine, Lt. Col. Jeffrey Chessan, Tim McGuirk
 
Did you enjoy this article? If so, please subscribe to my blog!