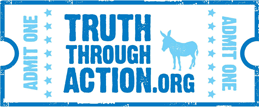 I have been meaning to write about this for quite some time; I have just now been able to spare a few minutes to speak my mind about these silly democrats; not all democrats – just the ultra liberal ones.
So the video is about some dorky white boy who meets a really hot chick in a night club and brings her home for some fun.  Before they get a chance to bump uglies, she finds an autographed picture of John McCain that says "Thanks for your supportâ€?. She goes ballistic and says "Just like the last one" and hysterically leaves his apartment. Then she bumps into a well dressed, sophisticated metro sexual cat in the street and he hands her a pin that says "I only sleep with democratsâ€?.  You can only assume that he brings her home and beats it up. 
The video is actually really funny and well made but totally inaccurate. The girl in the video is quite the hottie. The problem is that most liberals I know resemble the likes of Cindy Sheehan and Rosie O'Donnell. Truthful, no! Action, well of course if that's the way democrats act after a few drinks.
Does the democrat party really want to associate themselves with bar-hopping-alcohol-drinking-promiscuous-one-night-stand-prostitutes?  I mean, I really don't see a problem with that lifestyle at all and it reminds me of my college days when I was quite the play boy; but I am a grown man now with responsibilities, a family and two beautiful daughters.
Here's their mission statement:
TruthThroughAction.org brings independent filmmakers together to create edgy online film and video content to support the Democratic Party, its issues and candidates. By developing, funding, producing and distributing these high-quality projects, we're working to ensure they win large, viral Internet audiences. Contribute today to help us produce more films.
Big ups to Jed Swartz who wrote about this over a month ago and said, "Somebody should tell these guys there's been a group of folks making 'film and video content to support the Democratic Party' for years. They're called Hollywood."

I couldn't have said it better myself.







Tags: I only sleep with democrats, pins, TruthThroughAction.org

Did you enjoy this article? If so, please subscribe to my blog!

blog comments powered by