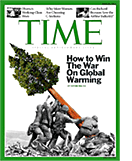 If this isn't an example of liberal propaganda, I don't know what is.  For the second time in roughly 85 years or so, Time abandoned their traditional red border it uses on its magazine cover for a green one.
… and the occasion is – yes, you guessed it, to push more global warming awareness.  Reminds me a little of April 3, 2023 cover, "Be Worried, Be Very Worried."
The cover of the April 21 issue of Time took the famous Iwo Jima photograph by Joe Rosenthal of the Marines raising the American flag and replaced the flag with a tree. The cover story by Bryan Walsh calls green "the new red, white and blue."
Did you enjoy this article? If so, please subscribe to my blog!